---
Hi
will this connector fit ?
if not can you advise what this connector is please ?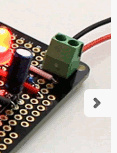 Steve
---
Hi,
It seems it's indeed the connector you've posted (3.5mm) that was somehow forced to fit into the 2.54mm holes for the photo. It does stay, but the 'legs' are a little bent.
For 2.54mm holes we have these three-contacts screw terminals, that go well with the breadboard (but won't fit into the power rail unless you cut the extra terminal):

---